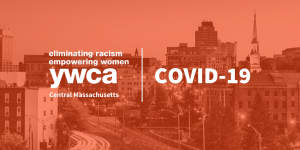 This YWCA facility remains closed to the general public until further notice.
Our Fitness Center is currently open for members. Fitness classes are now available. To book an appointment, RSVP for a class, or to inquire about a membership, please call 508-767-2505 ext. 0
We continue to provide support to victims and survivors of domestic violence. If you need support, please call our Domestic Violence Helpline at 508-755-9030 or visit http://ywcahelp.com/ 
Our Childcare Centers in Worcester and Westborough are open to children ages 1 month to 5 years old. To inquire about available slots, please call:
Worcester 508-767-2505 x 3031
Westborough 508-366-5777
All individuals entering the YWCA for any reason are required to wear a face mask and adhere to all posted COVID19 protocols.
March 16, 2020 | click to download 
March 25, 2020 Update | click to download 
Fitness Center Reopening Plan | click to download