International Women's Day
International Women's Day is a worldwide event celebrating the achievements of women while calling for greater equality. YWCA Central Massachusetts celebrates this important holiday each year with an inspiring evening that honors women's experiences, addresses challenging issues, and celebrates who we are.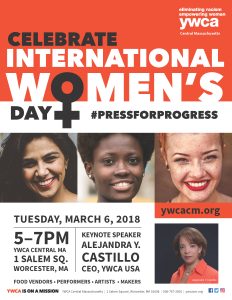 2018 International Women's Day Celebration: Press for Progress
Tuesday, March 6, 2018  |  5:00-7:00PM  |  YWCA Central MA

Join the YWCA Central Massachusetts for an inspiring evening as we honor women's experiences, address challenging issues, and celebrate who we are. This year's theme is #pressforprogress.
Join us for a keynote address by YWCA USA's new CEO, Alejandra Y. Castillo, as well as food vendors, musical performances, refreshments, international artists and makers, and more!
Learn more about International Women's Day at https://www.internationalwomensday.com/.