Cance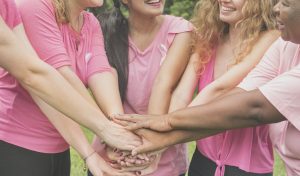 r Support Programs
ENCOREplus®: Supporting Survivors
For more than 25 years YWCA has been committed to supporting women with breast cancer.
Through the ENCOREplus® program, women under treatment and recovering from breast cancer have access to a unique, combined peer group support and exercise program. ENCOREplus® is a free program providing valuable physical and emotional support to any woman diagnosed with breast or reproductive cancer.
Emotional Support: Share your thoughts, information, resources and concerns with other women diagnosed with cancer at weekly facilitated peer support group sessions. You'll also enjoy stress reduction exercises and healing techniques! Choose a day or evening meeting time.
Physical Support: Our weekly aquatic exercise classes are specifically designed to increase upper body strength and range of motion after treatment. Women of all ages and fitness levels can participate and those facing surgical treatment can start as soon as three weeks after surgery.
ENCOREplus meets on the third Tuesday of the month for facilitated group support and the first and third Tuesday for water exercise.
Call 508-767-2505, ext. 3022 to register.