Group Fitness Classes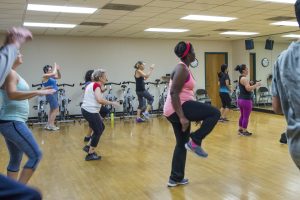 Drop-In Fitness Classes
Over 75 drop-in fitness classes are available to YWCA Central Massachusetts fitness members each week free of charge! Stay motivated and have fun in a group fitness setting.
We offer a variety of exciting classes, so you're sure to stay motivated and engaged! Some of our offerings include:
Yoga
Pilates
Zumba
PoundFit
Boot Camp
Barre
Kettlebells
and more!
Click here for our current group fitness schedule.
Specialty Fitness Classes
In addition to our drop-in fitness classes, we also offer a variety of specialty fitness classes. These classes, taught by certified experts, offer a more intensive and focused fitness experience. Specialty fitness classes can be accessed by purchasing a 10-class fitness pass for $99 (non-members) or $85 (YWCA Fitness Members) at our front desk.
For a list of current specialty fitness class offerings, click here or check our group fitness schedule.