Worcester, MA–
YWCA Central Massachusetts, the longest-serving agency by, for, and about women and girls in central Massachusetts elected new directors and officers at its 137
th
annual meeting in June.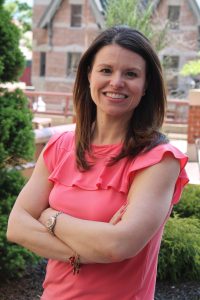 Christienne Bik (Shrewsbury) was elected to serve as president of the YWCA's board of directors. Christie has held various positions on the YWCA's board of directors for 11 years with increasing roles of responsibility including vice president and president-elect. She also served as a member of the executive committee and chaired the YWCA's Public Policy Committee. Most recently, Christie served as a tri-chair of the YWCA's LIVE Capital Campaign, spearheading the fundraising campaign for the YWCA's $24 million renovations of its Salem Square facility in downtown Worcester.
Christie is director of government affairs and public policy at Fallon Health. In this role, she supports Fallon Health's business objectives and mission by focusing on strategic public, community, and government relations opportunities. Before Fallon, Christie spent eight years in the Worcester County District Attorney's Office as an assistant district attorney. Previously, she was a legislative assistant for Congressman James P. McGovern and legislative aide for State Representative Robert Spellane. Christie is a graduate of American University and received her Juris Doctor from Suffolk University Law School. She is a member of the Massachusetts Bar Association. In 2007, Christie received the Massachusetts District Attorney Association's Spotlight Award, and in 2014, she was honored with Worcester Business Journal's 40 Under Forty award. Christie also serves on the Boards of the New England Council and the Massachusetts Association of Health Plans.
In her remarks to the YWCA membership, Christie said, "We have accomplished so much here at the YW but our mission of eliminating racism and empowering women is so far from being reached… The YW will continue to advocate for increased funding for early education on the state and federal levels, we will continue to lobby for policies that raise awareness about the negative effects of institutional and structural racism in our communities, and we will continue to fight for all women's rights, including by not limited for the right to choose her own health care needs."
Other officers elected to serve a one-year term are Alexizendria Link, president-elect; Monica Thomas-Bonnick, vice president; Kristin Sawash, treasurer; Kristin DeSousa, assistant treasurer; and Amane AbdelJaber, clerk.
Elected to serve a three-year term as members of the YWCA's board of directors are Patricia Leary of Shrewsbury (MA), Jessica McGarry of Sutton, (MA), vice president/East Region Commercial Lending Team Lead at Country Bank; and Mary Ritchie Murphy of Worcester (MA), clinician at Pathways of Wellness.
Re-elected to serve a three-year term are Amane AbdelJaber of Shrewsbury (MA), program manager, Massachusetts Office of the Attorney General; Jeanie Connolly of Princeton (MA), senior vice president and commercial relationship manager at Bay State Savings Bank; Amanda Gregoire of Worcester (MA), vice president of Real Estate Services at MassDevelopment; Monica Thomas-Bonnick of Worcester (MA), vice president, business lending officer at Webster Five and executive director/treasurer at The Webster Five Foundation; and Rubby Wuabu of Worcester (MA), assistant district attorney in the Middle District District Attorney's Office.
The YWCA's Chief Executive Officer, Deborah Hall, said "I am honored and excited to have these remarkable women leading the YWCA as we embark on this new chapter, we are ready to move forward with our mission of eliminating racism, empowering women, and promoting peace, justice, freedom, and dignity for all."
YWCA Central Massachusetts is on a mission to eliminate racism, empower women, stand up for social justice, help families and strengthen our community. YWCA Central Massachusetts is part of an international movement serving over 2 million in the United States and 25 million worldwide. For comprehensive information about this important work, go to: www.ywcacm.org and www.ywca.org.
Alyssa Mancinelli
Development & Communications Specialist
Email: amancinelli@ywcacm.org