About the Synchro-Maids Coaching Staff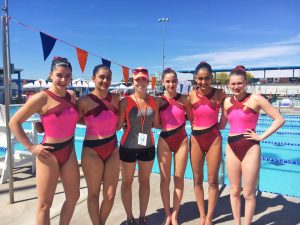 Janine Kopeski, Head Coach
Janine will begin her second season with the Synchro-Maids as Head Coach in 2017-2018.
Under Janine's leadership, the Synchro-Maids finished 6th at the 2017 Junior Olympic Championships in Riverside, CA in the 16-17 Age Group Team category.The team also had a 16-17 age group duet and a 12&Under age group team compete in the Junior Olympics this season as well. Her team also competed in the US National Championships earlier that season and finished 12th in the Jr Team category. The team also had a soloist compete in the Jr Solo event at the US National Championships as well. These are all groundbreaking accomplishments for the Synchro-Maids.
Janine has a passion for the sport of synchronized swimming. She has been involved with the sport for the past 16 years. She started her synchro career as a Synchro-Maid when she was eight years old. During high school, she trained and competed with ANA Synchro in Andover, MA and then in college she swam and competed with Wheaton College. Upon graduation from Wheaton in 2015, she started coaching with the Synchro-Maids team, then in 2016 she was promoted to Head Coach of the team. Janine is a USA Synchro Level 3 certified coach. She is also a USA Synchro level 2 certified judge and often acts as both an official and coach during the local meets throughout New England. Her coaching career has only just begun but she has quickly found how rewarding it is to work with young athletes.Along with working with young athletes, Janine also has an interest in sports performance and human movement and is currently working on an MS in Exercise Science at Northeastern University to increase her knowledge of science and movement to better train athletes.
Coaching Staff:
Sheila Cremin, Age Group Team Coach
Diandra Jimenez, Intermediate Team Coach
Lacy Miner, Novice Team Coach
Maureen Burdulis, Beginner Team Coach