Stand Against Racism 2021
It's time to take a stand. Join us in our mission of eliminating racism and help us raise awareness about the impact of institutional and structural racism during our national Stand Against Racism campaign.
Every day, we take a Stand Against Racism by raising awareness about the impact of institutional and structural racism and by building community among those who work for racial justice. Now it's your turn. We can't do it alone.
As our nation faces these difficult times, and as racial injustice issues come to light, as a result of the COVID-19 pandemic, we must continue our fight and act to resolve the persistent racial disparities in our city.  
---
Jump to Section:
---
 Addressing Racism as a Public Health Crisis
Public health is, and always has been, central to racial justice work. This year our theme is especially pertinent as our nation continues to face the intersecting public health crises of COVID-19 and racism.
Understanding the economic and social determinants of health and how racism impacts public health outcomes is critical to uprooting systemic inequity in communities of color.
Economic investment in public health looks like safe and affordable housing, access to quality education, economic advancement opportunities, reliable transportation, availability of healthy foods, and environments free of contamination among other essential resources.
Social resources which can reduce negative health outcomes in communities of color include enhanced public safety measures, addressing social norms and attitudes which cause discrimination, and increased social support across our country. This also looks like breaking down barriers to people of color running for and holding elected office in their own communities.
By investing in marginalized communities, empowering people of color, and expanding public resources, we can challenge centuries of unfair social, economic, and political systems which contribute to inequity. Each of us can stand against racism by advocating for and supporting our communities in a meaningful way.
---
How to Participate in Stand Against Racism 2021:
1. Take part in our SAR Challenge and nominate your friends to share their support on social media.
Copy, Paste, and Challenge! Join us in our mission of standing against racism on social media by sharing our message and challenging your friends to pledge to eliminate racism, empower women, stand up for social justice, help families, and strengthen our community.
Here's How:
Take a picture or video with a sign that says " I stand," or "I'm taking a Stand Against Racism" or download one of ours SAR Downloadable Signs.
Copy and Paste our message template
Tag and challenge your friends
Post
Message Template:
I AM TAKING A STAND! I pledge to eliminate racism, empower women, stand up for social justice, help families, and strengthen our community. I AM TAKING A STAND AGAINST RACISM with YWCA and hundreds of thousands of people across the country, this week during YWCA's annual Stand Against Racism Campaign — and every day!
I was nominated by @YWCACM and I challenge [insert name] to join our mission and STAND AGAINST RACISM!
Copy this text and post a photo or a video to challenge your friends to stand up and speak out against racism in our community!
2. Help is to continue to grow the impact of our work by starting a Facebook fundraiser during the month of April.
We need your help to continue to grow the impact of our work. Support us by starting a Facebook fundraiser during the month of April.
 Start your own Stand Against Racism fundraiser:
1. Click here to start a fundraiser on Facebook
2. Set a goal – any goal. Every dollar makes a difference!
3. Pick a start and end date. We suggest running it throughout the month of April.
4. Name the fundraiser. Here's some suggestions:
Stand Against Racism with YWCA Central Mass
Take A Stand Against Racism
This April, Stand Against Racism
5. Write a description to let people know why this fundraiser is important or use ours:
This April, I'm joining YWCA Central Massachusetts and taking a Stand Against Racism. Throughout the month of April, I'm raising funds to support the YW's mission to eliminate racism, empower women, stand up for social justice, and strengthen our community.
Through their programs and campaigns, such as Stand Against Racism, they seek to raise awareness of racism within Worcester County's institutions and work with people on strategies to create more inclusive environments.
Together, we're stronger. Together we can root out injustice, transform institutions, and create a world that sees women, girls, and people of color the way we do: Equal. Powerful. Unstoppable. Please help me reach my goal by donating to my Stand Against Racism fundraiser and sharing it on your Facebook.
6. Upload a cover photo or use ours: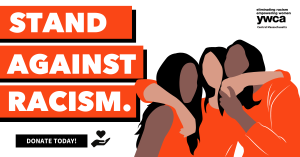 7. Publish & Share!
3. Amplify our message and spread awareness about our SAR campaign on social media:
Use our hashtags: #ywcacm, #YWeStand and #SAR
Use one of our SAR Facebook profile picture frames (search ywcacm)
Tag @YWCACM in your posts
---

From Declarations to Change: Addressing Racism as a Public Health Crisis:
Public health is — and always has been — central to racial justice work.
Join YWCA as we address racism as a public health crisis on Thursday, April 29, from 12:00 p.m. to 1:30 p.m. during our 2021 Stand Against Racism virtual panel. Hear from our featured speakers, Dr. Matilde (Mattie) Castiel and Sabrina Selk, ScD., who have blazed trails and lead the charge in establishing this declaration within the city of Worcester and across the state. 
Learn about the connections between racism and public health outcomes, how to implement public health practices to effectively identify and address racial injustice in our communities, and community engagement and public policy strategies to advance racial equity through a public health lens.
Register: 
Featured Speakers: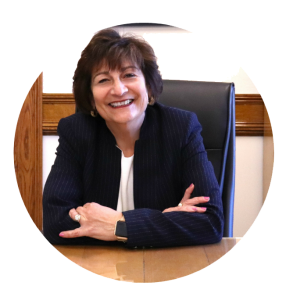 Mattie Castiel, M.D. has always held a professional and personal mission to work with the underserved. She was born in Camaguey, Cuba and immigrated to the U.S. in 1962 as part of Operation Peter Pan. Raised and educated in California, she completed her medical training at the University of California-San Francisco.  She moved to Worcester 32 years ago, and has practiced as a Board certified physician in Internal Medicine in the Worcester community for both Family Health Center and UMass Memorial.  She is also an Associate Professor of Internal Medicine, Family Medicine and Psychiatry at UMass Medical School.
In 2009, Dr. Castiel founded the Latin American Health Alliance (LAHA), a nonprofit organization in Worcester dedicated to combating homelessness and drug addiction and at present she continues to serve as its Medical Director.  LAHA's programs consist of the Hector Reyes House a substance abuse treatment facility for LatinX males and 2 transitional houses. In 2015 LAHA opened Café Reyes on Shrewsbury Street, an innovative jobs training program for the residents at Hector Reyes House and transitional houses.
In September of 2015, Dr. Castiel was appointed as the City of Worcester's Commissioner for Health and Human Services, where she oversees the divisions of Public Health, Youth Services, Human Rights and Disabilities, Veterans Affairs, and Elder Affairs, and Homelessness along with advancing important new initiatives that fall under the scope of youth violence and the current opioid crisis.
Most recently she has been awarded in 2019-2020 the UMass Medical School Chancellor's Medal for Distinguished Service, the Edward M. Kennedy Community Health Award, Family Health center Healthy Communities Award and, LIFT Community Hero award and WBJ Hall of fame.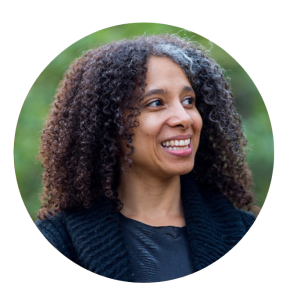 Sabrina Selk, ScD, joined DPH as the Director of the Office of Health Equity in March of 2018.  Sabrina brings extensive experience developing data for communities to better understand and address social determinants of health and improve the health of families and children. Sabrina worked previously at the National Institute for Children's Health Quality (NICHQ) where she led the Department of Applied Research and Evaluation.
In her role, Sabrina was a senior advisor on a number of projects across content areas including asthma, sickle cell disease, infant mortality, and early childhood comprehensive systems. Dr. Selk also bring extensive experience working with organizations to develop person-centered and community-tailored, anti-racist engagements to improve the health of children, families, and communities.
Sabrina has a Doctor of Science in Social and Behavioral Science Society, Human Development and Health, from the Harvard T. H. Chan School of Public Health, and undergraduate degrees in Biology and Psychology from the University of Washington. Sabrina has previously worked at Dana Farber Cancer Institute and as a Manager of Research & Clinical Relations at Advance Health Solutions. She currently serves as a member of the Cambridge Human Rights Commission to which she was appointed in 2013.
---

The Alliance of YWCAs of Massachusetts
This year, the Alliance of YWCAs of Massachusetts have teamed up to host our biggest Stand Against Racism campaign yet. Each branch shares YWCA USA's mission to eliminate racism and empower women. To learn more about your local YWCA and how we are each working towards greater equity in MA, please visit:
 As we continue to practice physical distancing, this campaign presents an opportunity to build community online and engage in crucial work toward racial equity.
You can show your continued commitment to eliminating racism by participating in this year's campaign. Here's how:
1. Pledge boards: You are invited to fill out a digital pledge board with messages from your team, colleagues, friends, or family on how each will commit to helping eliminate racism in 2021. We will provide all participants with their own online digital pledge boards, which you can share with your networks. You may also choose to print out your own boards.
2. Curated discussions: Host a virtual conversation with your team, colleagues, friends, or family around an article, book, or video from our exclusive content library curated by this year's Stand Against Racism guest curators. Our curators come from diverse fields and are actively working to achieve greater racial equity.
As we approach the month of April,
registered participants
will receive access to their digital pledge boards and to our Stand Against Racism 2021 curated content library.
Here are a few of this year's Stand Against Racism curators, with more to be announced soon:
Laurel Berryman, Activist, Former Racial & Gender Equity Program Coordinator, YWCA Southeastern Massachusetts
Damon Hart, Executive Vice President, Deputy Chief Legal Officer at Liberty Mutual Insurance
Jennifer Hedrington, 2021 Massachusetts Teacher of the Year
Irene Li, Co-Founder of Mei Mei Restaurant Group
Dr. Matilde Castiel, City of Worcester's Commissioner of Health and Human Services
Devin and Jason McCourty, Professional football players and members of the New England Patriots
Eva Millona, President and CEO of the Massachusetts Immigrant and Refugee Advocacy Coalition (MIRA) 
Wendy Mota, Program Manager with the Children's Team, Futures Without Violence 
Dr. Julia Rodriguez, Professor of History, University of New Hampshire
Click HERE to learn more!