Racial & Gender Equity

The YWCA Central Massachusetts' Racial and Gender Equity program is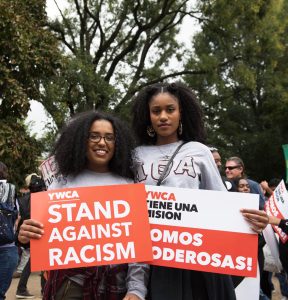 dedicated to ensuring that our mission of Eliminating Racism and empowering Women directs all systems, culture and programs at the YWCA. We are committed to dismantling racism in all forms by promoting awareness of racial and gender inequity, by educating individuals and communities, and advocating for equity throughout Central Massachusetts. We support and promote the YWCA USA's National Advocacy Agenda and are intentional in advancing the YWCA's Mission of Eliminating Racism and Empowering Women. Our work includes establishing partnerships with allies, coalitions, and organizations; engaging grassroots networks; and hosting community forums, workshops, and racism and bias awareness events.
STAND Against Racism
YWCA's annual STAND Against Racism is a series of events that bring together like-minded organizations sharing YWCA's vision and mission of eliminating racism and celebrating multiculturalism and the value of diversity. In recent years, more than 140 organizations have participated, pledging to STAND with the YWCA. Events include a Leadership Breakfast and Community Forum featuring keynote speakers who are committed to advancing racial equity, and an on-site Stand Celebration that showcases the community's multi-racial, multi-ethnic communities with diverse performances, artwork, and food.
Click here for more information about the YWCA's STAND Against Racism.
Want to get involved in STAND Against Racism? Contact mcruz@ywcacentralmass.org.
International Women's Day
International Women's Day is a worldwide event celebrating the achievements of women while calling for greater equality. YWCA Central Massachusetts celebrates this important holiday each year with an inspiring evening that honors women's experiences, addresses challenging issues, and celebrates who we are.
Click here for more information about the YWCA's International Women's Day Event.
Fall Forum
YWCA Central Massachusetts's Fall Forum is an open and engaging dialogue around the intersectionality of race and gender issues with invited esteemed women. Panelists include educators, community organizers, advocates, public servants, elected officials, and legal and media professionals.
Click here for more information about the YWCA's Fall Forum.
YWomen Speak Series
YWCA is thoughtfully intentional in expanding its racial equity work. Pioneered at YWCA Central Massachusetts, the YWomen Speak Series is a 1-year program that brings together 20-25 multi-racial, multi-ethnic women on a monthly basis. Participants engaged in facilitated conversations with a focus on the intersection of race and gender and the different impacts that inequity imposes on women of color and white women. Some of the topics addressed include racial justice and civil rights, race and gender, economic advancement, and health and safety. The purpose is to create awareness about racism and inspire a sisterhood movement to dismantle it.
For more information about the YWomen Speak Series, contact Maritza Cruz, Director of Racial and Gender Equity at mcruz@ywcacentralmass.org.
Racial Equity 101
Part of YWCA's effort to become more mindful of its mission is to fully integrate it for staff and YWCA volunteers with ongoing Racial Equity Workshops. These workshops deepen awareness of racism and bias and how racial inequities directly impact people of color through institutional and systemic racism.
For more information about Racial Equity workshops with the YWCA Central Massachusetts, contact Maritza Cruz at mcruz@ywcacentralmass.org.